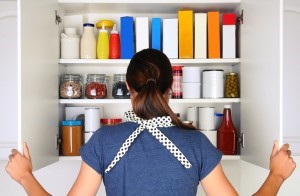 Whether you have a free-standing pantry, or a dedicated room for storing your kitchen essentials, there's certain things that you should do to make sure your pantry is organized and that you have easy access to all of your items. Here's some tips for good organization in your kitchen pantry:
Be Careful With Stacking Canned Goods
If you stack large items with other smaller items, such as different sized canned goods, it can pose a problem. An alternative to this storage dilemma is that of using risers. If you don't want to put risers in because you feel that they'll take up too much space, remember that these storage tools are giving you space in a different sense. However you choose to stack your canned goods, remember that the shortest item should be in the front. Organizing your canned goods by height can help to save you time and space.
Store Open Items In Airtight Containers
Items that have been opened should be stored in an airtight container with a lid. This can save you money by keeping items fresh. Also, you and your family will know what food items have been opened and need to be finished up before new items are ripped open. Keep cereals, crackers, cookies and even pet food fresh with the use of this simple tactic.
Stacking Bins Save Space
If you're like most of America, your town probably recycles. Consider getting stacking bins for the pantry or kitchen area to place recyclables in. Make sure these bins aren't too large. This way, you'll be on top of taking the recycling outside to where it needs to be. This organizing tip helps to keep your kitchen clean. Also, be sure that these containers are easy to open for your convenience.
Categorize Your Snack Foods
Your kitchen pantry area will stay much more organized if you keep things in categories. Cookies and other sweet snacks should stay on one shelf in one area. Snacks for the kids should be easy to grab for little hands (that is of course if the kids have free reign over the kitchen!) Savory and salty snacks are a different category that will be on a completely different shelf and area. Baskets can be a great accessory for single-serve items. Boxes that snack items come in often take up a lot of space that could be better used. Bags of chips and other items are the same way. These bagged items can be transferred to sealable containers. Baskets are also easy to carry around if you're offering a choice of snacks. Be sure you have clips to close bags and packages to keep snack items fresh.
How Deep Is Your Shelf?
Be mindful when it comes to shelving items like bottles that are all the same size. This can make things hard to find. These types of items are often best stored on a lazy Susan, or other type of turn-style storage that easily spins and allows you to see what's available for your cooking use. This way, you'll never have to move a bunch of things to find what you're looking for! These kitchen pantry storage tips will help you to stay organized and save time both cooking and cleaning.